Luxury Resorts & Communities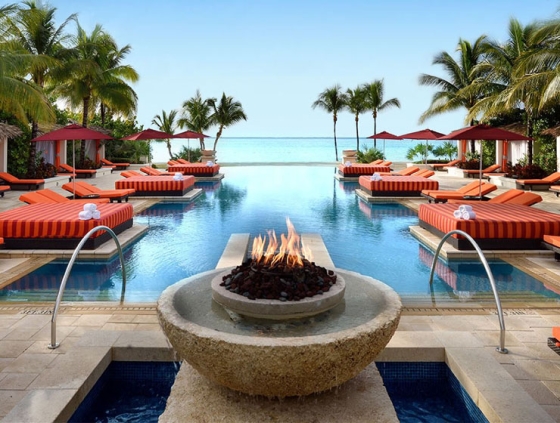 Many buyers who end up purchasing Luxury Homes in The Bahamas discover the beauty of the country as a tourist while staying at some of the best luxury resorts in The Bahamas, not to mention worldwide. Whether it's the country's crystal-clear cerulean waters, powdery white sand beaches, five-star dining or tax-friendly environment, a significant percentage of those who enter The Bahamas as tourists decide to invest in a home here. And with several luxury resort destinations available throughout the country, it's not hard to see why visitors might want to make the country a part of their permanent lifestyle.
The Ocean Club, A Four Seasons Resort | Paradise Island
Since opening in 1962, The Ocean Club has been a playground for celebrities and discerning travelers alike. Set along a five-mile stretch of natural, white-sand beach on Paradise Island in Nassau, New Providence, the resort's lush tropical grounds offer seclusion and relaxation while its award-winning restaurant Dune, offering French-Asian creations by Michelin-starred chef Jean-Georges Vongerichten, satisfies even the most sophisticated palates. Private residences such as Ocean Club Residences offer guests the opportunity to purchase a home that comes with access to all of the amenities of a five-star resort.
The Cove | Eleuthera
This intimate, 57-room resort offers a selection of stylish seaside cottages and villas, private white sand beaches, a fitness center, a hilltop infinity pool, an immaculate spa, an open-air sunset bar, and a gourmet restaurant. Located on the northern end of mainland Eleuthera, The Cove is not far from Gregory Town, a tranquil bohemian settlement featuring homes with names like A Majestic View, Sandy Bottom, and Surf's Up.
Kamalame Cay | Andros
Just off the Andros Great Barrier Reef in the cerulean waters of The Bahamas, this family-run private island resort accommodates 70 guests in cottages, bungalows, and villas spread out on 96 acres of lush greenery, coconut palms and deserted white sand beach. Amenities include tennis courts, a freshwater pool, a PADI-certified dive shop, the only overwater spa in The Bahamas, and some of the region's finest cuisine. In fact, the resort's monthly luncheons are so popular, they've gained international attention, encouraging guests to invest in their own on-site property, such as the elegant Dorado, so they can return frequently.
The Dunmore | Harbour Island
Just steps from the famous Pink Sand Beach on Harbour Island, The Dunmore is billed as a "coastal chic hotel with private residences" offering casual elegance in a glamorous retro Bahamian setting. In addition to stunning oceanfront views, amenities include beachside food and beverage service, a tennis court, a highly acclaimed restaurant, and bar, concierge services, a heated ocean-front pool, a fitness facility, and an outdoor massage area.
Living in paradise is only one click or call away – contact us here or call +1 (242) 427-0555 today!
Enjoy your time in The Bahamas!
Martina Reichardt
Martina Reichardt is a Licensed Estate Broker, Member of Bahamas Real Estate Association, awarded as Top Producer Exclusive Listings 2016, 2017, 2019, and 2020.